O'ahu is the third largest island in the Hawaiian chain. It is home to about three-fourths of the state's population. Honolulu is the state capitol and the 11th largest U.S. metropolitan city. Waikiki, the most world-renowned site in O'ahu, is the top visitor destination of the state. This manmade beach attraction encompasses 450 acres of top vacation fun, surf, hotels, shopping, dining, and entertainment. Of course there is abundant tourist attractions outside of Waikiki. The island is very geographically diverse with mountains, rain-forests, volcanic craters,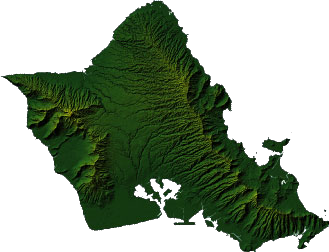 tropics, beaches, and much more. There is something for everyone to see and do!
Capital City:
Honolulu
Population:
953,207
Airports:
Oahu's main airport is Honolulu International Airport (HNL). HNL is also Hawaii's major airport, serving as the entry point for most of Hawaii's visitors.