While there are many wonderful beaches on the island of Oahu, here are a few that are considered by many to be simply great places to enjoy a day at the beach!
Kailua Beach has been called a top beach often due to its proximity to the town of Kailua and its approximate three miles of beautiful sand protected by a live coral reef.  There are many palm trees and the temperature of the water, crystal clear and inviting, is around 75 degrees year round.
Kayaking and windsurfing are quite popular in Kailua. Learning to windsurf in Kailua is great as the spot is ideal for beginners. In addition to taking a turn on the kayak or windsurfboard, surfing and boogie boarding are also enjoyed in the area. There are picnic tables, barbecues, restrooms, a volleyball court and a public boat ramp. In the town center you can find everything from fine dining to casual, as well as great leisure shopping.
Next to Kailua you'll find another great beach which is considered one of Hawaii's best spots for swimming. It is called Lanikai Beach and the waters here are extremely clear – you'll feel like you are swimming in an aquarium filled with rainbow-colored tropical fish and sea turtles. The beach itself is what one expects from a picture postcard.  It is about a mile long, and while narrower in some places, the soft sand and routine onshore trade winds make this a great place to sail and windsurf. Surrounded by a neighborhood community, Lanikai often is less crowded than other Oahu beaches.
A very popular spot on Oahu is Hanauma Bay.  The Hanauma Bay Nature Preserve is a marine life sanctuary, where there is always plenty of fish and other marine life. As it is a preserve, there is an entrance fee which helps to maintain the bay. Also, a short film must be viewed prior to being granted beach access. The orientation film covers how the bay was created, explains some of the marine life you may encounter, how you can help protect the reef, as well as important ocean safety information and how to make the most of your visit. Due to its great popularity, the area can be filled with visitors, so come early. Composed of a volcanic crater, where one side has slid into the ocean, this crescent-shaped, 2,000-foot white-sand beach provides the perfect snorkeling beach with shallow water, filled with a plethora of marine life. Please do not bring your pets as they are allowed, as well as neither fishing, nor fish feeding. The coral reed is alive, so please do not stand or walk on it. The preserve requirements include not removing, harassing or harming any marine life. Facilities include parking (for a fee – come early as the lot fills in a short time), restrooms, lifeguards, showers, barbecues, picnic tables, food concessions, and various rentals for lockers, snorkels, mask, etc…  An optional shuttle bus with handicap accessibility is available to bring visitors up and down the hill to the beach. Alcohol is prohibited in the park and there is no smoking past the visitor center.  During the summer, Hanauma Bay is open daily from 6:00a.m. until 7:00p.m. On the second and fourth Saturdays of each month, Hanauma Bay remains open until 10:00p.m. During the winter, the bay is open daily from 6:00a.m. until 6:00p.m. The bay is closed all day on Tuesdays. As changes are possible at any time, please call the recorded information line at (808) 396-4229 for the most updated information.  Again, please note that Hanauma Bay is closed on Tuesdays.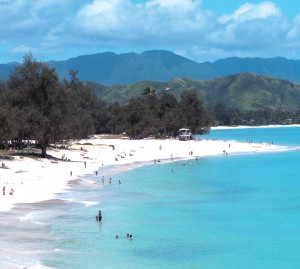 On the north shore of Oahu you'll find Waimea Beach Park.  During the summer months the water here is calm and great for swimming and it has a large sandy beach area. During the winter months, however, the waves can reach very large heights and due to this, it is very popular for spectacular surfing for experienced surfers. Amenities include lifeguards, picnic areas, restrooms, showers and shops and restaurants in nearby Haleiwa.  When visiting the area and the water, one must be cautious and obey all posting and warning signs. Do not enter when the swells are large as the rough water can cause loss of life. There is also a strong riptide current running out at the center of the bay. Remember that if you come to visit during the winter months, not to be distracted while driving in the area when you first witness the very large waves. Wait until you have safely parked your vehicle before taking your eyes off the road (and pedestrians crossing the road!) and other vehicles!
E komo mai! Come and enjoy for yourself some of the many fine beaches and water activities found on Oahu and in the beautiful 50th State of Hawaii!