By Lois Bisquera
Cool spray from a roadside waterfall… fragrant ginger flowers scenting the air… spectacular cliffs plunging to the sea… the road to Hana is an unforgettable, multi-sensory experience. You must make the trip at least once, or you haven't tasted the very essence of Maui. Here's Why: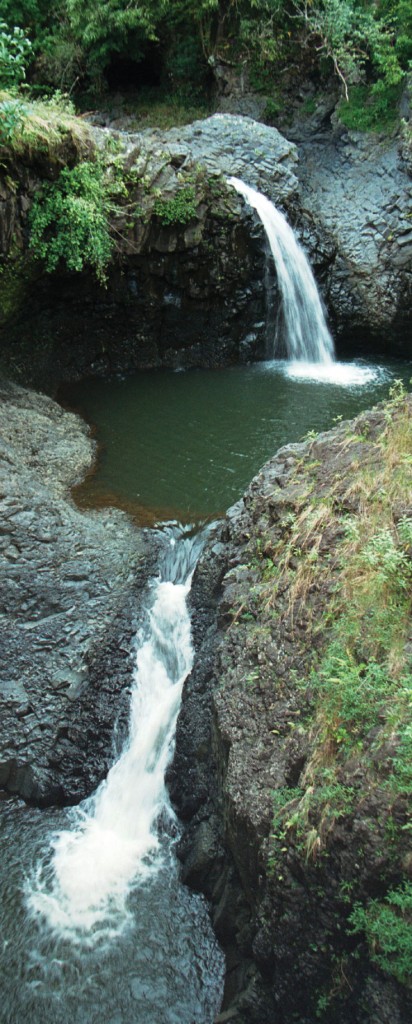 1. KE'ANAE (KAY-AH-NYE)
At once wild and beautiful, the Keanae peninsula is a paradigm of "natural" Hawaii. Waves pound the rocky shoreline sending up a salty spray, and taro patches form a verdant quilt. You can walk along the shore, but be cautious of the ocean at all times- large waves can appear out of nowhere. Another short safari awaits just up the road at the Keanae Arboretum, which offers a tranquil stream and swimming pond, as well as an easy walk through lush gardens and into the rainforest. Keanae is about halfway to Hana and a great place to get out and stretch your legs.
2. WATERFALLS
Here's the wet and wonderful reason there are so many bridges on the road to Hana! These mountain streams provide a refreshing reward for the many twists and turns the road dishes out, and even in the occasional dry season the remaining ponds are great for exploring. This side of Haleakala is so moist that a private network of 75 miles of tunnels and ditches provides water for the sugar cane fields carpeting the central plains and for part of the upcountry population. As you drive you'll see water trickling out of the hillside through ferns and soft moss, and countless mini-cascades finding their way to the sea. Here's why:
3. SCENERY
As one visitor put it, "I feel like my camera's going to explode!" Feast your eyes on bamboo jungles, breezy Eucalyptus groves, roadside fruit stands, brilliant tropical flowers and postcard-perfect panoramas that have remained basically the same for hundreds of years. If you've come to Maui to sightsee, this is it!
4. WAI'A-NAPANAPA (WY-AH- NAH-PAH-NAH-PAH)
If you still haven't unwound, you will be once you've walked the trail along this stretch of lava coastline. You'll pass over a sea arch with the water surging just below, discover tidepools and a blowhole, and end up at a black sand beach perfect for sunbathing and snorkeling (if the ocean's not too rough). You might also want to explore the history-rich, water-filled caves that are actually freshwater springs. Or you might want to simply relax on the hill beneath the palm trees and watch for the family of dolphins that often cavorts in the bay. Paradise? You bet.
5. HANA TOWN
After 52 miles of winding traverse, you've made it! Enjoy Hana Bay, where local families bring their children to picnic and frolic in the gentle waters. You can take a hike around the town for breathtaking views, or you can opt for sightseeing on horseback. Before you leave, don't forget to stop at Hasegawa's General Store, the landmark frequented by visitors and locals alike. Poke around the aisles chock full of trinkets as well as necessities. Where else can residents on this end of the road find Bisquick, blue jeans and fishing line all in one place? After Hana, stop at the refreshing pools at Ohe'o gulch. Well, you should be convinced by now that a visit to Hana is well worth the effort, but remember, the drive itself is the real adventure. See ya on the road!