By Anne Rillero, Communications and Conservation Advocacy Manager
Just as many people travel to Hawaii in winter, thousands of humpback whales also make the journey, swimming about 2,500 miles or more from Alaska to reach the warm, clear waters surrounding our islands. Their migration is one of the longest in the animal kingdom.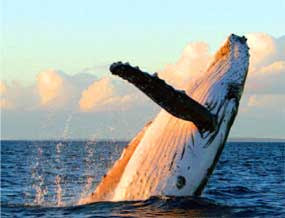 About 12,000 or more of these whales are believed to make the trek to Hawaii. The largest concentrations of humpback whales are found in the region along Maui's south and west shores, earning our island the reputation of offering some of the finest whalewatching in the world. The first whales are sighted here during autumn.
As their numbers increase, so does the excitement. "Whale season" officially begins in late November and continues through mid-May, with the season's peak in February and March. The Maui Whale Festival, which spans all of the months of whale season, features a slate of activities and events to honor their presence. Details can be found at www.mauiwhalefestival.org
Want to learn more about the whales? Maui's internationally recognized whale experts are found at Pacific Whale Foundation, a nonprofit organization that has logged more than 30 years of whale research throughout the Pacific. Educating others about whales and the marine environment is a big part of Pacific Whale Foundation's mission, which is why this nonprofit offers whalewatches and other ocean ecotours to the public. Details can be found at www.pacificwhale.org or by calling (808) 249-8811.
Pacific Whale Foundation also offers free wildlife watching guides about Hawaii's resident whales, dolphins, sea turtles, coral reefs, sharks and monk seals. These guides can be obtained at no cost at Pacific Whale Foundation's Ocean Stores at 612 Front Street in Lahaina and at The Harbor Shops at Ma'alaea (next to Maui Ocean Center).
You'll also find Pacific Whale Foundation's naturalists stationed at Papawai Point Lookout on Route 30 between Lahaina and Ma'alaea during the winter months, from 8:00 a.m. to 2:00 p.m. daily. They'll gladly answer your whale questions and help you locate whales from shore. They even have binoculars for your use!
Whale Behaviors
• Breach: The whale leaps out of water, clearing the surface by two-thirds or more of its body, while also rotating on its long axis. The resulting splash can be seen for miles!
• Blow: The whale exhales and inhales at the surface. A bushy plume of water vapor is produced during the exhalation. Rising up to 15 feet high, it's a tip-off that there's a whale in the area.
• Spy Hop: The whale slowly lifts its head straight up out of the water. Sometimes you can see the whale's eyes. Who is watching whom?
• Pec Slap: The whale slaps its long pectoral fins on the ocean's surface. Whales will also "tail slap" with their 15-foot wide tail flukes.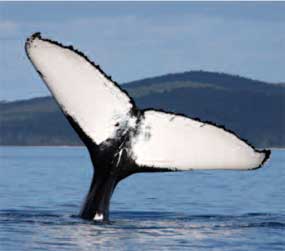 Try It!
During the winter months, you can listen to whale songs simply by diving underwater at the beach. Those squeals, moans and barnyard sounds are the songs of male whales, associated only with the time of year when the whales are mating.
Year-round whales
Humpbacks are not the only whales found off the coast of Maui. Other species of whales are found here yearround, including pilot whales, false killer whales and melon-headed whales. These whales are generally found in deeper water and are best viewed from aboard an ocean cruise.