By Lois Bisquera
Okay, so you've slathered on the sunblock and packed up the snorkel gear, boogie boards, water toys, towels and picnic—now what? Check out this guide to our own favorite spots to help you decide which beach is right for your kind of fun. Happily, Maui's beaches cater to snorkelers, surf chasers, kids, landlubbers and everyone in-between.
WEST MAUI LAHAINA / KA'ANAPALI / KAPALUA
A Snorkeling & Swimming
"Black Rock" – Located at the northernmost end of Ka`anapali Beach, below the Sheraton. Lots of coral and fish, and if you arrive early a.m. or late p.m., you'll see the resident green sea turtles feeding on limu (seaweed) in the protected cove. Great for beginners; fun for all levels of snorkeling & diving experience.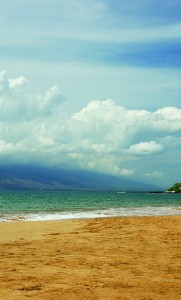 Surfing/Boogie Boarding
"Puamana"- Located near the first entrance to Lahaina's Front Street. Great waves for beginning and intermediate surfers, with grass and picnic tables for those hanging out on the shore.
Kids
Ka`anapali Beach- Since this beach is located within the resort, you'll need to take a ticket to park. The resort setting provides easy access to a food court and convenience store, as well as kid-friendly gift and ice cream shops—just get your ticket validated so the parking's free. Excellent beach for sand and water play; set up camp away from the boat loading zones and watch for any warning flags.
Beach bumming
D.T. Fleming Beach- Makai (oceanside) of the Ritz Carlton. Ranked
1 in the U.S. (2006) by "Dr. Beach," Fleming's clean, white sand and awesome views of Moloka`i provide a wonderful backdrop for relaxing, building sand castles, taking a dip and enjoying Maui's tropical climate. "Hanakao`o/Canoe Beach"- Next to the famed "Dig Me" beach and located just before the main entrance to Ka`anapali Resort. Easy parking and lots of space to spread out on the beach- no crowds here unless there's a canoe regatta going on. Buff paddlers work out at their clubhouse on the beach; lifeguards, showers, restrooms and shade available.
SOUTH MAUI (KIHEI/WAILEA/MAKENA)
Snorkeling & Swimming
Kamaole Beach Parks I/II/III- You can take your pick of these three parks in a row off South Kihei Road. Local favorites, these parks fill to the brim on weekends and holidays, so go early to avoid crowds (and brisk tradewinds) and walk over if you're staying in the area. Each park has a rocky point which harbors the most fish for viewing; also look for the coral "walls" at the beginning of III that run perpendicular to the shore.
Surfing/Boogie boarding
Cove Park- Off South Kihei Road just past Kalama Park. This is a great place to learn to surf, with gentle and steady waves, shallow waters and a large grassy area to relax when your arms get tired of paddling. Just remember not to step on the reef if (when) you fall off your board- it'sbad for the reef and often very bad for your feet.
Windsurfing
Mai Poina Beach Park- On the northern end of South Kihei Road, this park is famous with wind and kitesurfers who can't get enough of the gusty afternoon tradewinds.
Kids
Ulua Beach Park- Located in Wailea, just before the Marriott and shops. A circular drive allows you to drop off kids and stuff close to the beach, which offers protected shallows for little ones plus great snorkeling for adults. There's a nice grassy area next to the showers and restrooms, and a fantastic shoreline walking trail perfect for strollers.
Beach Bumming Big Beach
Located in Makena, Big Beach is a must-see for every serious beach-goer. This huge, crescent- shaped beach means everyone can find their own slice of paradise. Lots of people-watching action, especially over the cinder cone at the low-key (and slightly illegal) nude beach. Watch out for large body surfing waves when there's a south swell—these create a strong undertow and killer poundings unless you know what you're doing.
CENTRAL MAUI (KAHULUI)
Windsurfing
Kanaha Beach Park- Located on the ocean side of the main airport. This hot-spot for both wind and kitesurfers is great for beginners and pros alike, with flat, easy access from the parking lot, showers for washdown, restrooms and a grassy area to crash out.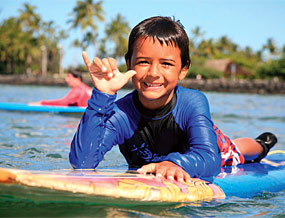 NORTH SHORE (PAIA/HA`IKU)
Surfing/Boogie boarding
Ho`okipa Beach Park- Off the Hana Highway a few turns past Mama's Fish House. An informal agreement keeps most surfers on the cove end near the pavilions (great for kids), while wind-chasers hunker down by the dirt parking lot. Ho`okipa is a local favorite, and visiting surfers should mind their manners and not drop in on someone else's wave.
Windsurfing
Ho`okipa Beach Park- Another informal agreement keeps windsurfers out of the water until 11 a.m. to give local divers a chance to put some fish on the dinner table. This world-famous beach draws professionals from around the globe, and is home to numerous surf and windsurf contests each year. Wave jumpers catch huge air and 360s, even up the faces of monstrous winter waves. If you're not an expert, it's best to watch from shore when the surf's up.
Beach bumming
"Baby Beach"- Located just before Paia town by the basketball courts. Winter surf is too rough for the babies, but there's an interesting mix of people to hang with. The local youth center operates an informal snack shop, and there's always someone available for a pickup game of b-ball.
EAST MAUI (HANA)
Kids
Hana Bay- Local families love to congregate along this stretch of sand, which offers restrooms and showers. Lots of community events take place in the adjacent hall, and a snack shop accommodates hungry swimmers.
Beach bumming
Wai`anapanapa State Park- A few minutes before Hana town, you'll find a black sand beach with a trail, freshwater pools and caves to explore nearby. Good snorkeling, but no lifeguards so assess conditions carefully before going in. Showers and restrooms are in the campground nearby. Hamoa Beach- Just outside Hana town; park on the road and take the stairs down to the beach. Ranked by "Dr. Beach as
9 in his Top Ten list of America's best beaches 2006, Hamoa's serene setting and facilities serve the public and guests of Hotel Hana Maui. Lush vegetation, sea cliffs and views of tiny Alau island seal the deal for an island getaway.