Discover Lahaina's Best
By Lois Whitney Bisquera
Experience the charm and rich history of old Lahaina Town by strolling along Front Street. Once the whaling capital of the world and the former capital of the Kingdom of Hawai'i, Lahaina is now Maui's top destinations for shopping, dining, activities and entertainment.
Lahaina is more than just a long series of shops, however. This town exemplifies the living history of Hawai'i, by preserving the past and by embracing the future. A national historic area, Lahaina features a harmonious blend of tourism and agriculture, the two primary industries of Hawai'i.
Lahaina Harbor once provided a safe haven for numerous whaling and freight vessels. Now it is home to many fishing, diving and sightseeing charter boats, cruise ships and military vessels paying a visit.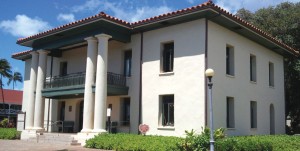 Also at Lahaina Harbor is the Fort of the Canal, the old Courthouse and the Banyan Tree. The Fort was built in 1831 out of coral blocks that were hewn by hand. Once covering an area of about one acre, with 20 foot walls, now all that remains is a small section of the southwest corner. The Courthouse, built in 1859, years after the Fort had been destroyed, functioned as a custom house, a post office, a collec- tor's office, an office for the Governor, a police office and a courtroom.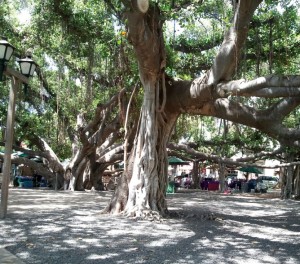 The Courthouse is presently home to the Lahaina Arts Society, Banyan Tree Gallery, and the Lahaina Visitor Center, operatedby the Lahaina Town Action Committee, a non-profit organization that sponsors cultural and promotional events in Lahaina. The Old Courthouse also houses the Lahaina Heritage Museum, which offers a glimpse into Lahaina's storied past through numerous artifacts, historical photos, and a knowledgeable docent. Free admission.
The Banyan Tree, the oldest in the state of Hawai'i, came from India in 1873. At the time, it was only eight feet tall. Now the tree stands about 50 feet in height, spans approxi- mately 200 feet in length, and shades nearly two-thirds of an acre.