Photos and text by Lois Whitney Bisquera
Don't be fooled— there is much more to see and do here than one might imagine upon arrival at Lihue's sleepy airport. From the trailhead of an oceanfront bikepath to an end-of- the-road scenic lookout into the tropical grandeur of Kalalau Valley, Kaua'i offers an endless supply of natural beauty and adventure just waiting to be discovered.
The island's rich diversity in topography and climates create an amazing array of environments —and sightseeing opportunities!
To name just a few: lush rainforest on the slopes of the wettest spot on Earth; the only navigable river in all Polynesia; an arid, multi-colored canyon akin to a mini Grand Canyon; terraced plateaus brimming with Hawaiian taro plants; razor-like cliffs that plunge into the Pacific; dramatic waterfalls freefalling into azure
pools; spectacular shoreline vistas made famous on Hollywood's silver screen.
This is God's country, a magical world of splendor. To truly experience Kaua'i, don't just follow the road… follow your heart. It will guide you to places that take your breath away, leaving you inspired and refreshed.
E komo mai— welcome!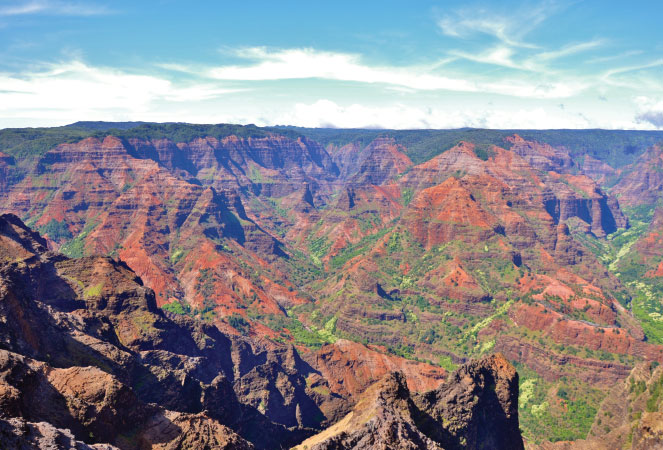 >   
The recently constructed "Ke Ala Hele Makalae" multi-use path runs 4.1 miles along the wildly beautiful coastline from Kapa`a and runs through Lydgate Park, which includes an expansive, community-built wooden playground for kids of all ages. When complete, the path will stretch 8.7 miles. Bike rentals in town make it easy and affordable to hop on a two-wheeler or tandem and pedal your troubles away.
<
Often called "The Grand Canyon of the Pacific," Waimea Canyon resembles its geological muse in its weathered rocky crags and paintbox-colors. Well-prepared hikers can venture into the valley for day-hikes or overnight camping; be sure to get advice on conditions and necessary provisions from local outfitters before heading out.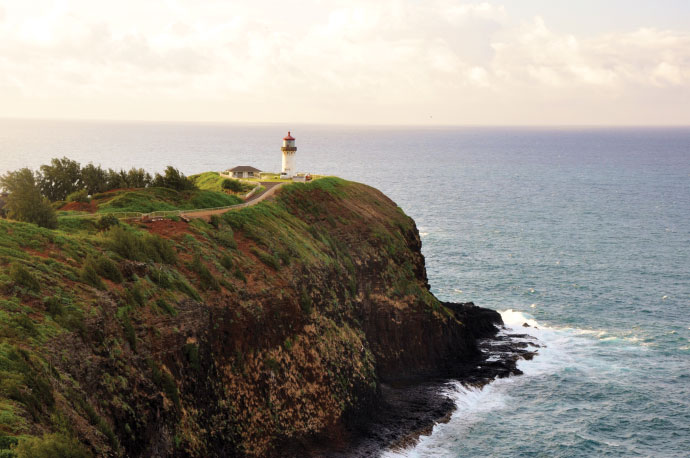 >    
Poipu's Spouting Horn is an active blowhole that never fails to delight camera-toting visitors and those who simply want to take in nature's show.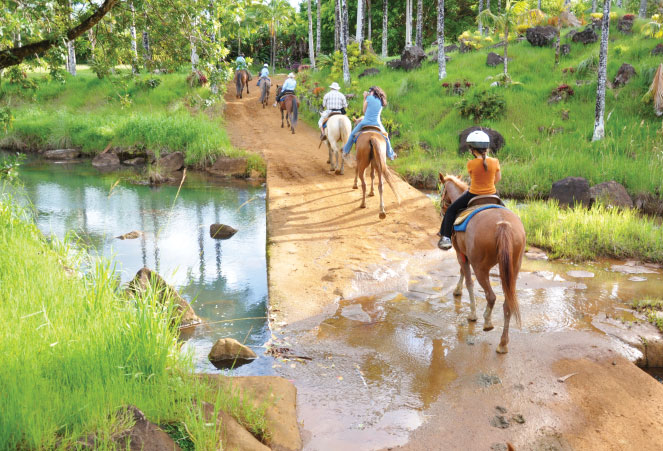 >    
A cool waterfall-fed splashpool provides the perfect break from a dusty trailride. The formidable backdrop of the Makaleha mountain range harbors Mount Waialeale, known as the wettest spot on earth.
<
The U.S. National Park Service manages the site of the picturesque Kilauea Lighthouse, but the views and parking are free just outside the entrance to the park. Thousands of native sea birds nest on the cliffs near the lighthouse; at sunset they return to catch a few last updrafts before heading home to roost.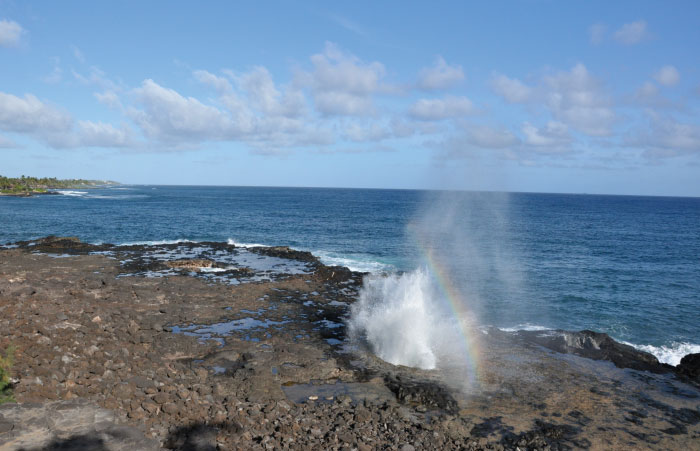 <

Horseback riding is a relaxing way to experience the island's natural wonders. Guided tours offer tidbits of Hawaiian culture, history and local yore.