By Lois Whitney Bisquera Photos by Lois and Kayla Bisquera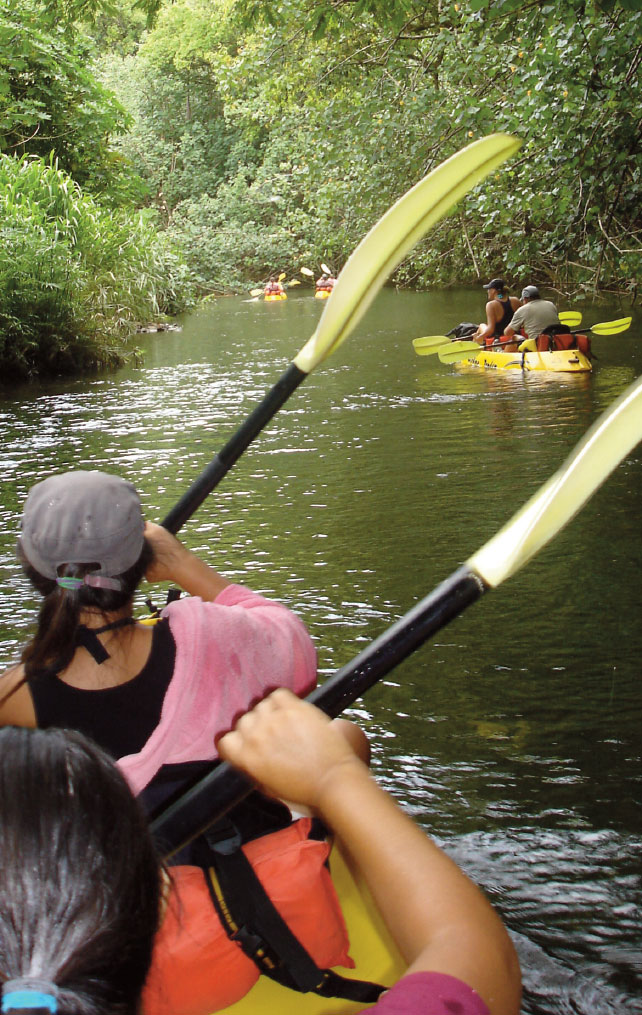 The rhythmic splash of our paddles in the water reassured me that after a few minutes of instruction from our attentive kayak guide, we were ready to take on The River.
The River Delivers… Adventure, that Is
We were heading up the Wailua River, the only navigable river in all Polynesia, and I was excited. Bucket-list excited, to be exact. Where else in Hawaii could we be fresh-water mariners for the day? Turns out, nowhere else.
So here we were, tooling along in a not-so-straight line under the watchful eyes of a seasoned Kayak Wailua waterman who not only made sure we stayed afloat, but entertained as well. He regaled us with stories from the pages of Hawaii's colorful natural and cultural history, bringing to life hidden taro patches, rock formations and ancient hale (house) platforms that otherwise would have been overlooked.
We paddled on the broad expanse of the river and into narrow tributaries fringed with mangrove-like hau trees, hiked through the
sweetly pungent rainforest and traversed knee-deep streams on foot along a rope strung across the water. By the time we reached our waterfall destination, we had become adventurers on a journey to a Hawaii that time forgot.
Sun & Surf on the South Shore
The next day, we found ourselves again relaxing at the water's edge- this time salt water- at Poipu. Clambering on rocks at low tide (being careful to avoid stepping on coral, which kills the living reef), we oohed and aahed at miniature sea creatures whose entire habitat could fit in an evening bag.
Nearby, scads of boogie boarders and beginning surfers caroused in the gentle surf, while other swimmers enjoyed the playful waves in the shallows. One boogie boarder caught a nice-sized tube, which elicited cheers from onlookers. Clouds drifted lazily across the late-afternoon sky, and the shadows of the tall palms grew longer in the golden light. "This is the life," I thought out loud, wondering when we could schedule a return trip to Kauai. "It just doesn't get any better than this." Little did I know, I was wrong. Very wrong.
Flying Lessons
Whizzzzzzzzzz. There was that sound again, so distinctive and electrifying, signifying the end of what I thought was my sanity, yet the beginning of a new obsession: flying.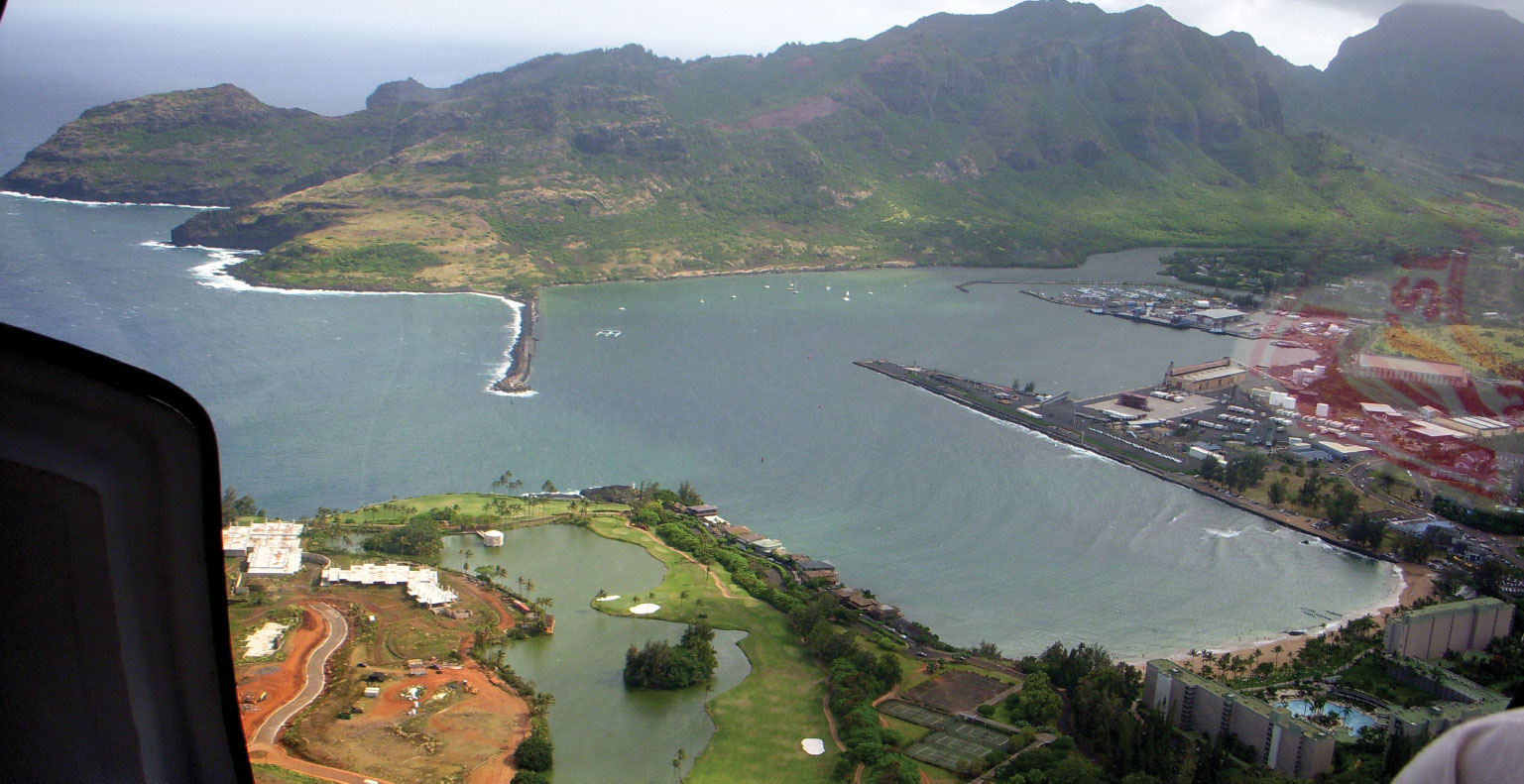 The first time off the zip-line plat- form I realized that the body's natural instinct for survival did NOT include stepping off a perfectly sturdy wooden platform and flinging myself– on my own free will, mind you– over a jungle gorge a few hundred feet below.
Partly with the knowledge that my teenagers had safely completed the same flying lesson just seconds earlier and lived to tell, and partly because I was holding up the line of eager zippers behind me, I took a deep breath and leaped into what felt like another dimension.
I was airborne, catching glimpses of Dr. Seuss trees and a meandering stream far below. I skimmed past a native ohia tree at eye level, its brilliant red blossoms reaching out from the tree's perch at the edge of a sheer canyon wall.
Our guides had assured us that safety was top priority, and indeed it was. Harnesses, carabiners and other important-looking clips were checked before each flight, and a guide on each side made both takeoffs and landings a breeze– even with unreliable knees like mine.
Taking a short walk to each new line took us through the expansive pastures above Princeville, with a jaw-dropping backdrop of the Makaleha Mountains – topped with silvery rain clouds. A brief squall blew in and promptly blew on by, leaving only a refreshing kiss of tropical mist and a rainbow as a reminder of the hope of new and beautiful things to come.
Flightseeing: Sightseeing at its Best
Sure enough, there was more beauty to behold than could fit in my mental suitcase. We were aboard a high-tech flying machine that was taking us on yet another adventure, this time from a soaring seabird's point of view. After an informative safety briefing, we were on our way to what would become another highlight of our stay on Kauai: an aerial tour. I could feel the cares of the world melting from my consciousness as our Eco-star helicopter lifted effortlessly off the ground, floating, as if into a dreamworld. Below us, the lush jungle carpeting the island met razor-sharp ridge-lines and rugged canyons. We could almost see the velociraptors running through the trees at the spot where Jurassic Park was filmed, the steamy kiss in the rolling surf at Lumahai Beach, Harrison Ford running for his life on an Indiana Jones expedition. It was easy to see why Hollywood's love affair with Kauai has spanned decades and many film genres, with such an array of terrain, dramatic vistas and diverse weather conditions on an island untouched by development on 90 percent of its lands.
Red dirt and dry fields soon gave way to verdant landscapes laced with myriad waterways. We traversed above sleepy rivers that became thundering waterfalls, then flew to the source of such powerful water, watching in awe as glistening droplets seeped from the birthplace of rain itself- the inner sanctum of Mt. Waialeale.
I realized in that moment that this was not just a form of aerial sight- seeing, it was an entirely new perspective on a place I thought I had come to know. There was a whole lot more of Kauai yet to discover; our adventure had just begun.