by EmJay Aitch
In the heart of historic Kailua-Kona town, just past the Farmers' Market and directly across from St. Michael's Catholic Church, there's a delightful landmark called Waterfront Row. This charming 2-level nautical complex is easily distinguished by its massive royal blue roof, a 50 foot lookout tower and a giant three-ton iron anchor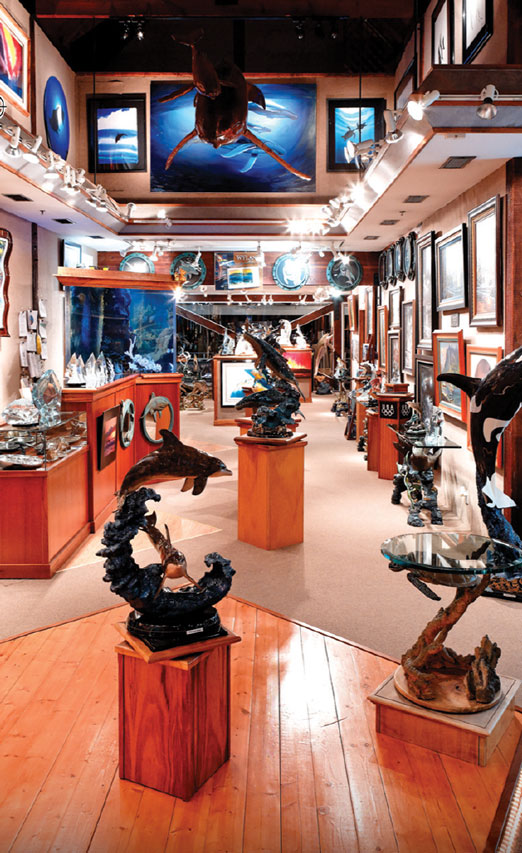 located at its doorstep. Waterfront Row, with its rich heritage and maritime splendor, has been gracing the Kailua-Kona coastline along Alii Drive for over 25 years. Overlooking picturesque Kailua Bay (Oneo Bay) and the Kailua Pier, this rustic nautical treasure boasts some of the most awesome ocean views of crashing waves and breathtaking sunsets. Endangered Hawaiian Green Sea Turtles and Monk Seals find refuge and frolic about in a little lagoon right outside the back lanai. Cruise ships dock in the distance and humpback whales and Hawaiian spinner dolphins can be seen dancing across the horizon. A quaint corner of the complex is reserved as a tribute to Kona's Billfish Tournaments with the historic 'Grander's (1,000 pounds or more) Wall of Fame.' Black and white photos of celebrit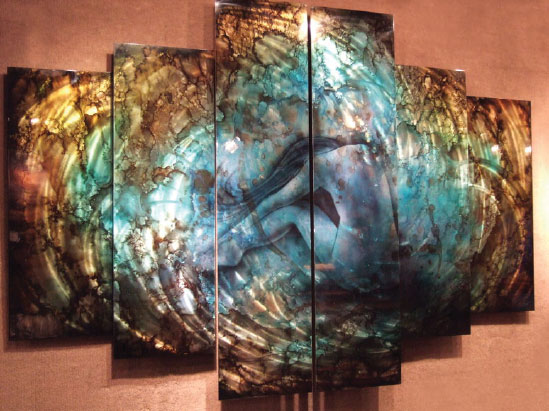 y billfish anglers such as Henry Fonda, Lee Marvin, Sylvester Stallone, Van Johnson and Art Carney highlight another wall around the corner where they can be seen posing with their catch. Waterfront Row is considered by many a "must see" shopping and dining destination point on the Big Island.
Perhaps the most famous of the shops at Waterfront Row is Wyland Gallery. Now known as Wyland Kona Oceanfront Gallery, the prestigious fine art gallery sits front-and-center in between Bubba Gump, Kaiso Japanese Cuisine, and Blue Waiaka restaurants. For over 30 years Wyland Gallery has been a major presence in Hawaii. World renowned environmental artist Wyland is sometimes referred to as the Marine Michelangelo and is most recognized for his 100 life size Whaling Wall Murals around the world.
Wyland Gallery has been a mainstay at Waterfront Row since 1993. In 2007, Wyland sold the gallery to his hometown friend, high school football team-mate and 10 year employee, Mark Hanna. Mark, along with his wife Diane, now own this celebrated establishment directed by Jill Weiss. In May of 2010, they also opened the first 'Wyland Coffee Café' where you can enjoy the finest 100% Kona coffee or indulge in rich Tropical Dreams© gourmet Ice-cream and real tropical fruit smoothies.
"It was an offer I could not refuse" explains Mark. "I started my career as the director of this gallery in 1997, and it was always a dream to one day own it. I mean, look at it, it's beautifully located right here on the ocean and we actually see whales and dolphins jumping from outside our back window. I couldn't believe it when Wyland made me the offer, and I couldn't say no. Now it's my life and it's become a labor of love. I'm committed to maintain the standard of excellence that Wyland started, and I strive to exhibit the finest and most exciting art from around the world – and right here in Kona. It's truly a place you never want to leave. Dreams do come true, and we help people make theirs come true every day."
Escape from the ordinary and indulge in the tropical paradise of Wyland Oceanfront Gallery. Marine Life artist Wyland, along with 25 other internationally acclaimed artists, will take you on an adventure of some of the most spectacular artwork from Hawaii and around the world. Dive into Mark Hanna and Wyland's fascinating art world and discover amazing and affordable artwork for everyone, and every budget. No matter where you are staying on the Big Island, it's well worth the drive.