By: Paula Thomas Photos provided by Joey Corcino and Chris Morakis
From Hawaiian hula performances to Portuguese bread- making demonstrations, the Big Island serves up culture throughout the island. The local style is casual and comfortable; sometimes a cultural experience can be simply just a conversation away.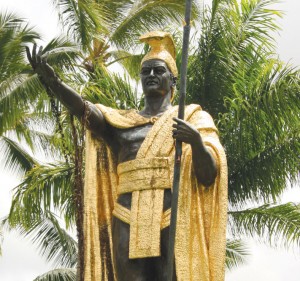 The Polynesians first settled the Hawaiian Islands around 400 A.D. and there are several state parks around the island where you can learn about the ancient Hawaiian way of life. One of them is Lapakahi State Historical Park, just north of Kawaihae, a 600-year-old settlement. Walk along the park's extensive trails and take time to imagine what it may have been like to live off the land in complete harmony with nature: invent tools, hunt for food, thatch a house and chisel nature in order to protect and preserve.
The Pu'ukohola Heiau National Historic Park in Kawaihae, or burial ground, is a National Historic site and at Pu'uhonua O Honaunau National Historical Park in Kealakekua you can learn about ancient Hawaiian rituals, customs and lifestyles, especially the Hawaiian's implicit connection with nature.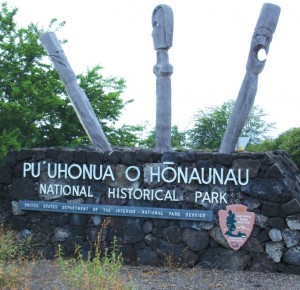 You'll likely see an abundance of Hawaiian petroglyph designs adorning items ranging from aloha shirts to coasters; the real artifacts were carved hundreds of years ago in stone. Don't miss seeing these genuine native images up close: just off Waikoloa Beach Road where there is a walking trail to the petroglyphs.
Another highlight of Polynesian culture, as many know, is the lu`au – a Hawaiian feast that is named for the tops of the taro always served at one. Several hotels feature lu`au evenings where guests can enjoy a traditional Polynesian revue-style lu`au with fire-knife and hula dancers, or experience a new show that mixes the hula with performance art and modern dance. Either way, visitors will experience Hawaiian history, myth and legend in a way that brings to life Kamapua'a (the pig-man warrior) and the wrathful volcano goddess Pele.
For those who love the wild, wild West, the Big Island also has its share of ranches and cowboys – called "paniolos" (pan-ee-oh-lows) in Hawaiian, which comes from the word,
Español (because the first cowboys brought here by King Kamehameha III were Spanish-speaking). The region extending from North Kohala to Honoka'a is considered paniolo country; and if you can't find a rodeo, visit a ranch to experience the paniolos' lifestyle and their deep-rooted respect for the land.
To delve a bit deeper into the Big Island's history, visit some of the museums around the island that chronicle its land, people and culture.
Hulihe'e Palace Museum
A two-story Victorian building erected in 1838 for Hawai'i's first governor, it has period furnishings and artifacts. Also visit the Moku'aikaua Church across the street.
808-329-1877 • 75-5718 Ali`i Drive, Kailua-Kona
Hours: Open Tuesday through Saturday from 10:00 a.m. until 3:00 p.m. Arrive by 2:30 p.m. to allow time to tour the Palace. Closed major holidays including New Year's Day, Easter Sunday, Thanksgiving Day, and Christmas Day.
`Imiloa Astronomy Center of Hawai`i
This is an interpretive center that weaves together Hawaiian cultural traditions with modern astronomical research, Planetarium and interactive exhibits.
808-969-9700 • 600 `Imiloa Place UH Hilo Science & Technology Park, Hilo
Hours: Tuesday – Sunday 9:00 am – 4:00 pm. Closed Mondays. Also closed on Thanksgiving Day, Christmas Day, and New Year's Day.
Planetarium shows at 11 am, 1:00 pm, 2:00 pm & 3:00 pm and 10:00 am on Saturdays. Some evening shows are also available.
Thomas A. Jaggar Museum
Earth science displays, seismographs (measuring tremors) and exhibits about revered vulcanologist as well as murals depicting Hawaiian culture. The adjacent overlook offers panoramic views of Kilauea Caldera and Mauna Loa.
808-985-6000 • Hawaii Volcanoes National Park
Hours: Daily, 8:30 a.m. – 5 p.m. Admission $10.00 per car for park entrance fee – museum admission is free.
Kona Historical Society
Exhibits and experiences to celebrate and preserve Kona history. Features Kona Coffee Living History Farm, Kailua Village Walking Tour, Greenwell Store Museum.
808-323-3222 • 81-6551 Mamalahoa Highway, Kealakekua
Hours: Mon. — Thurs., 10:00 a.m. – 2:00p.m. Admission is $7.00 for adults, and $3.00 for children ages 5-12. Children under 5 are free. Reservations are not needed, but you may call us to check availability.
Lyman Museum & Mission House
An historic museum that tells the story of the Hawaiian Islands and its people. A superb collection of artifacts, fine art and state-of-the-art exhibits on aspects of Hawaiian natural history and culture, plus special exhibitions and archives.
808-935-5021 • 276 Haili St., Downtown Hilo.
Hours: Mon. — Sat., 10:00 a.m. – 4:30 p.m. House tours at 11 am & 2 pm.
Pacific Tsunami Museum
Exhibits that interpret tsunami phenomena and history, the Pacific Tsunami Warning System, Hawaiian myths and legends about tsunamis, and public safety measures for tsunami disasters.
808-935-0926 • 130 Kamehameha Avenue, Downtown Hilo
Hours: Mon. — Sat., 9 a.m. – 4 p.m.
Parker Ranch Visitor Center & Museum
Parker Ranch offers opportunities for visitors to learn about the rich history and culture of one of the oldest and most historic ranches in the United States by calling or visiting Activities and Reservations center.
808-885-7655 • Parker Ranch Shopping Center, Kamuela (Waimea)
Hours: Monday through Saturday 9:00 am–5:00 pm (last ticket sold at 4:00 pm)
Wailoa Center
A museum/gallery which presents local art and cultural exhibits.
808-933-0416 • 200 Piopio St., Hilo (behind the King Kamehameha statue)
Hours: Mon., Tues., Thurs. & Fri., 8:30 a.m. – 4:30 p.m.; Wed., noon – 4:30 p.m. Closed Sat., Sun. and State Holidays.