by Jeanette Foster
Archeologists can trace Hawaiian peoples to this verdant area back to 1100 A.D., especially the vicinity around Hilo Bay and the Wailuku River. When the missionaries arrived in 1824, they too settled close to the river, as Hilo began to grow in response to the number of whaling ships and other ships of com- merce arriving at Hilo's new port. By the turn of the 20th century, a new crop was being grown – sugar, and Hilo was the hub for harvesting and shipping this cash crop. Railroads connected Hilo with other parts of the Big Island. It had become the center of commerce, government and finance for the entire island.
Even two destructive tsunamis, one in 1946 and the other in 1960, were not enough to shut down this vibrant town. After the second tsunami, Hilo pulled its buildings back from the waterfront, rebuilt itself and remains one of Hawaii's largest cities (second only to Honolulu) and, per- haps, the most historic city in the state. The islands have also recently experienced two more tsunami events, once on February 27, 2010 due to a large earthquale in Chile and then again on March 11, 2011 from a large temblor in Japan. In the former event, the wave was small, but noticeable, with very little damage. The latter event on March 11 event did cause a house to be washed into the ocean on the Kona side, as well as causing other damage in Kona where water rushed up on roadways and into hotel lobbies.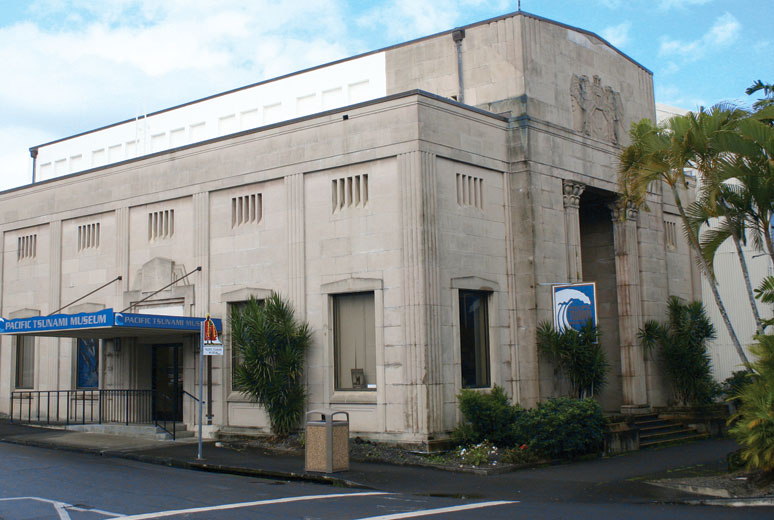 To truly appreciate Hilo, you have to wander through its streets laden with the past and walk into the historic buildings and imagine the past coming back to life.
Start your walking tour at the corner of Kamehameha Avenue and Mamo Street, the site of Hilo Farmers Market. Possibly the state's best farmers market, with more than 120 vendors from around the island bringing their fresh flowers, produce, and baked goods to this teeming corner of Hilo every Wednesday and Saturday from sunrise to around 4 pm.
From there saunter down Kamehameha Ave. to the his- toric S. Hata Building, 308 Kamehameha Ave., a great example of renaissance renovations to this 1912 build- ing. It is filled with interesting restaurants and shops and the National Marine Sanctuaries' Mokupapapa Discovery Center for Hawaii's Northwestern Hawaiian Islands coral reef reserve. Stop by Tuesday through Saturday (closed on Federal Holidays) from 9 am – 4 pm for the interactive exhibits and displays on the Northwest Hawaiian Islands.